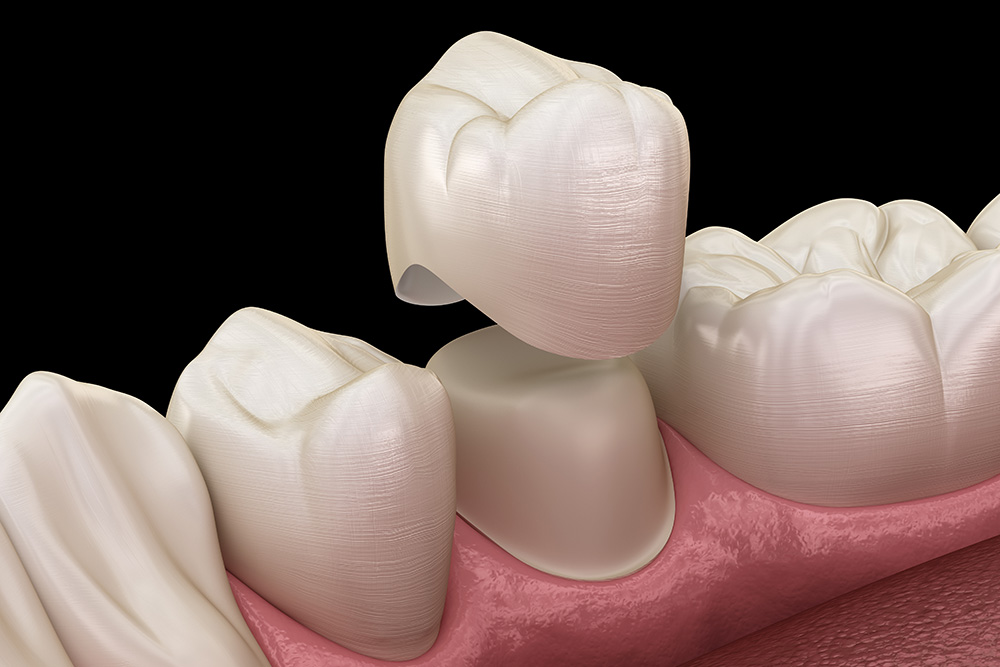 At Oakwood Dental, we're proud to provide our patients with comprehensive cosmetic and restorative dental care, and one of the treatments we use frequently for both purposes is dental crowns. A dental crown improves the appearance of the natural tooth being treated and strengthens and supports it.
What Is a Dental Crown?
A dental crown (also called a cap) is a dental restoration that can be used for cosmetic and restorative treatment purposes. A dental crown completely covers the portion of a tooth that is located above the gum line. A crown is typically recommended to keep a tooth with a large filling strong and intact, so that it does not break and create more problems.
Dental crowns can be made of a variety of materials. Most commonly, they're made of ceramic fused to metal or 100% porcelain. The type of material used depends on the tooth being treated and the patient's preferences.
How Dental Crowns Can Be Used
Dental crowns have a variety of uses and purposes, making them a highly versatile treatment option.
Restorative Uses
Dental crowns offer a variety of restorative benefits, as they can restore a tooth that is broken or otherwise compromised due to age, injury, disease, or another reason. Dental crowns are incredibly useful for saving and prolonging the life of natural teeth when they might otherwise need to be extracted.
A crown is usually the suggested treatment when teeth become weakened due to severe decay, injury, or an old, worn-out dental filling. In these cases, a dental crown can cover the tooth, protecting its interior from infection in addition to holding the tooth together and making it structurally stronger.
For example, after a root canal procedure, a tooth is filled and then covered with a permanent crown to preserve and save the natural tooth from being lost to an unavoidable extraction.
Cosmetic Uses
Since dental crowns cap the entire exposed portion of a tooth, they offer a variety of uses in cosmetic dentistry, including:
Correcting misshapen teeth
Covering stains or other permanent discoloration
Hiding old, silver-colored amalgam dental fillings
Covering broken teeth, cracks, and chips
Additional Uses
Dental crowns are also often used as anchors on dental bridges and are used as the tooth replacements that cap dental implants.
What To Expect When Getting a Dental Crown
The first step when getting a dental crown is to schedule a consultation. During the consultation, one of our dentists evaluates your teeth and usually takes a set of digital dental X-rays to assess the tooth's health and its roots.
To prepare your tooth for a dental crown, the dentist then shaves away a portion of the tooth's outer surface. This ensures your permanent crown has enough space to fit comfortably over the natural tooth and between the neighboring teeth.
We then take a digital scan of your mouth – no need for messy impressions with trays and putty – to create a three-dimensional digital impression. We use this impression to design your new dental crown and ensure a perfect fit.
Before sending you home, we fit you with a temporary crown to protect your tooth until your permanent crown is ready to be placed. Once your permanent crown is ready, we secure it to the natural tooth using dental cement.
Comprehensive Cosmetic and Restorative Dentistry Services in Bucyrus
Our dentists at Oakwood Dental are proud to provide our patients with truly comprehensive cosmetic and restorative dentistry in addition to a variety of other services. To learn more about our practice or to schedule a smile makeover consultation, we welcome you to contact our office today.