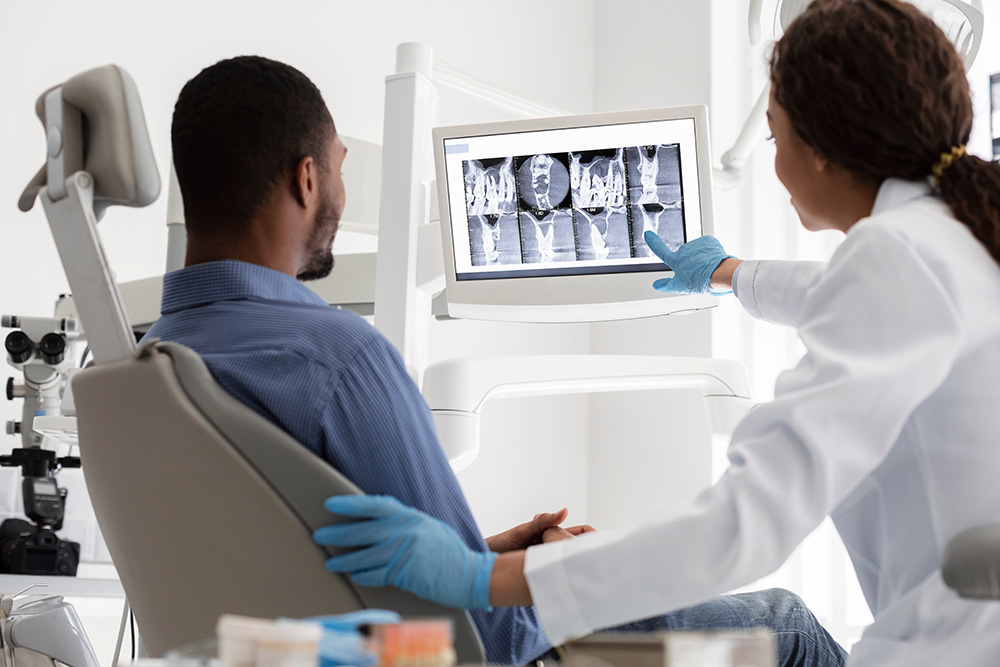 The team at Oakwood Dental is highly committed to providing our patients with world-class dental care and orthodontics. As advancements in dental care continuously improve patient outcomes, we are committed to continuously updating our office with the latest dental tools and treatment technology.
Advanced Treatment Tools and Technology at Oakwood Dental
Some of the advanced technology currently available at Oakwood Dental include:
Dental X-rays are powerful diagnostic tools that help us detect oral health issues and determine the underlying causes of a variety of oral health conditions, and we're proud to use digital X-ray technology in our office.
Digital X-rays offer several benefits over traditional X-rays. Compared to traditional film radiographs, digital X-rays require very minimal amounts of X-ray radiation exposure to produce digital images. As a result, digital X-rays are much safer for all patients, especially children and expecting mothers.
Additionally, digital X-rays can be viewed immediately, enhanced, and easily shared with other doctors or specialists. This means there is no waiting time between taking X-rays and receiving a diagnosis or treatment in our office.
Dental impressions are used to create custom-made dental appliances and individually designed treatment plans for patients. These include braces, Invisalign, athletic mouthguards, nightguards, sleep apnea oral devices, dental bridges, dentures, caps/crowns, veneers and Lumineers, dental implants, and more.
Dental impressions used to require patients to sit wearing uncomfortably bulky dental trays filled with dental putty. Digital impressions taken with our iTero scanner enable us to quickly collect highly detailed three-dimensional dental impressions without no discomfort and no sticky putty.
Additionally, these digital impressions can be easily uploaded into our computer system for enhanced treatment design and shared with oral health manufacturers and laboratories for perfectly fitting dental appliances.
We also have an intraoral camera for use in our office. Most often, we use this camera to help us track patient progress and treatment outcomes within our patient files. However, pictures produced with the intraoral camera can also be highly useful visual aids when explaining diagnoses and treatment options to patients who cannot easily see inside their own mouths.
State-of-the-Art Dentistry and Optimal Treatment Outcomes in Bucyrus
Whether you come to us for preventive care, restorative treatments, cosmetic services, orthodontics, or oral surgery, we use state-of-the-art treatment tools and technology to enhance the treatment experience and improve patient outcomes across the board.
To learn more about the technology used in our practice or to schedule your next dental appointment with Dr. Attila Nagy or Dr. Michelle Nagy at Oakwood Dental, we welcome you to contact our dental office in Bucyrus today.