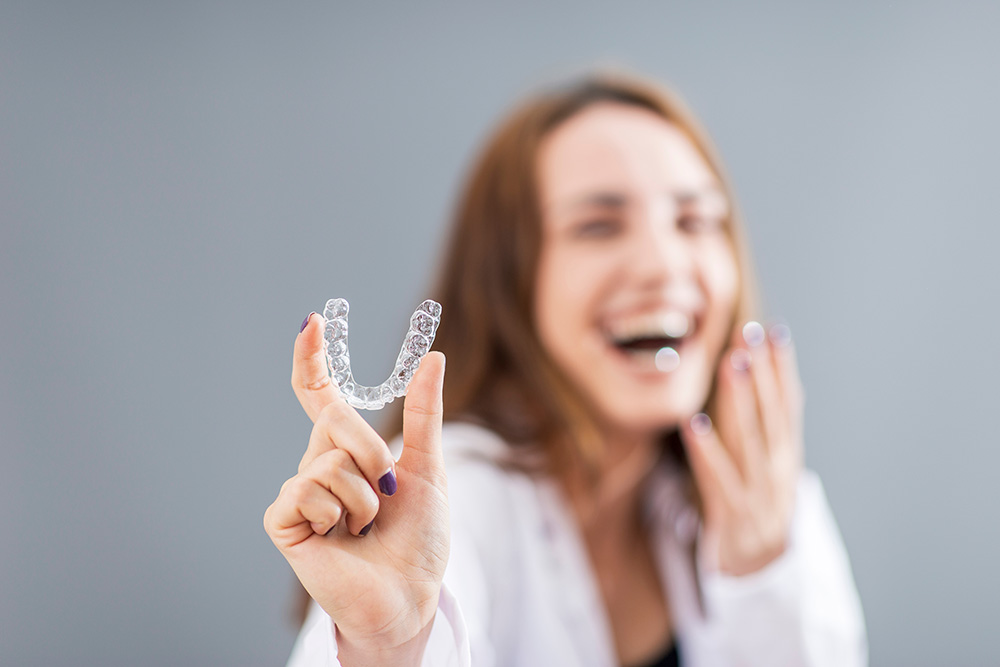 A straighter smile is not only more aesthetically pleasing, but straight teeth are also healthier and more comfortable than crooked teeth. Having misaligned teeth and an abnormal bite (malocclusion) can lead to painful symptoms of temporomandibular joint disorder, excessive wear and tear of bruxism, and an increased risk for tooth decay because it can be difficult to keep crooked teeth thoroughly clean.
While straighter teeth are healthier teeth, many people avoid getting braces because of the stigma that surrounds them. Thankfully, modern dentistry and our professionals at Oakwood Dental offer patients several treatment options, including Invisalign, for straightening teeth.
What Is Invisalign?
Invisalign is a system of clear, plastic teeth aligner trays that gradually shift a patient's teeth from their current positions into a healthier and more aesthetically pleasing alignment.
The Benefits of Invisalign
Invisalign offers many benefits over traditional braces, including:
They require fewer visits to the dentist during treatment.
They are clear and can be worn discreetly.
They are made of soft, smooth plastic that will not irritate soft tissues as metal braces can.
Invisalign will not cause any damage or discoloration to your teeth the way that metal braces sometimes can.
They should be worn for a recommended duration of 22 hours each day. However, Invisalign aligners can be removed at mealtimes, for photos, and to brush and floss your teeth like normal during the day.
How Does Teeth Straightening With Invisalign Work?
When getting Invisalign, your first appointment consists of a consultation, dental X-rays, and a three-dimensional digital impression of your teeth and mouth. We use this digital impression to design your treatment plan with Invisalign. We then place an order for your custom system of clear aligner trays.
Once your trays have arrived, our dentists provide you with instructions for wearing the aligners, in addition to a modest schedule of follow-up examinations. You can then begin wearing the trays.
Typically, each set of trays is worn for about two weeks before moving onto the next tray in the system. By the time you have worn all of the aligner trays, your teeth will have moved into the desired positions and treatment will be complete.
How Long Does Treatment With Invisalign Take?
The time required to complete treatments with Invisalign varies from patient to patient, depending on the severity of misalignment and how far each tooth needs to be moved.
On average, treatment with Invisalign can take about six to 12 months.
Are You a Candidate for Teeth Straightening With Invisalign?
Treatment with Invisalign is usually best for individuals with mild to moderate alignment issues. More severe issues are often better treated with traditional braces or other types of orthodontics.
Additionally, since Invisalign aligners are easily removable, we do not recommend them for younger children. A child being treated with Invisalign needs to be responsible enough to wear their aligners for the recommended 22 hours per day for the treatment to be effective.
Schedule a Consultation With Our Dentist in Bucyrus
If your smile is not as straight as you would like it to be, we encourage you to contact our dental office in Bucyrus to schedule an appointment. We can evaluate your teeth and jaw alignment, talk with you about your treatment goals and options, and help you determine whether Invisalign is the best orthodontic treatment for you.
To learn more or schedule your consultation, we welcome you to contact Oakwood Dental today.