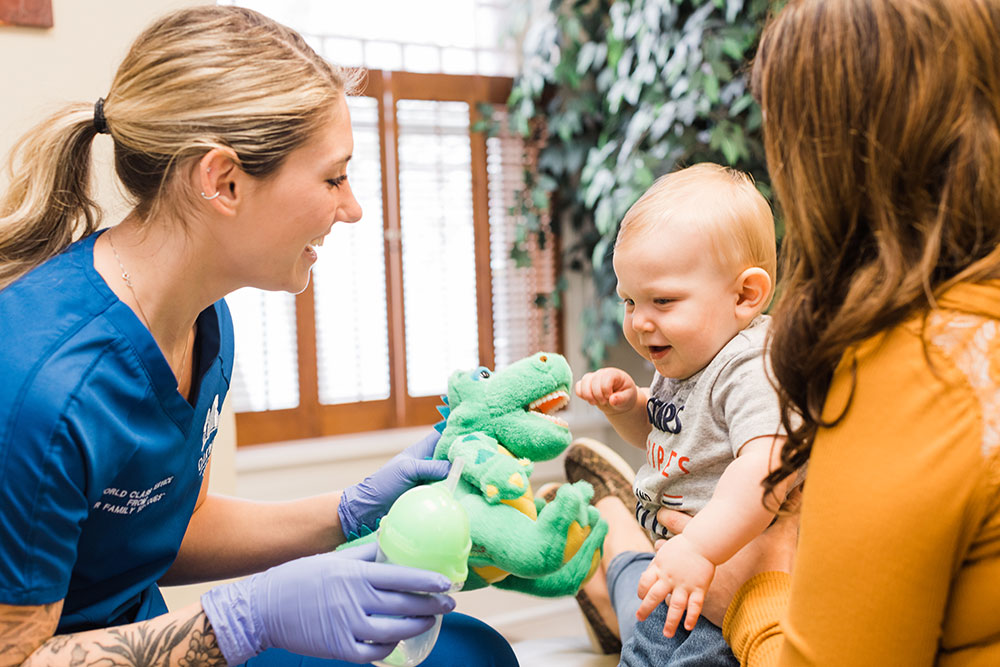 At Oakwood Dental, our dentists are experienced in providing care to patients of all ages, and we are proud to have created a dental office that can welcome entire families and meet all of their different oral healthcare needs in one, convenient location.
What Is Pediatric Dentistry?
Pediatric dentistry is a special branch of dentistry that focuses on children's oral health. Pediatric dentists provide care designed to prevent, detect, diagnose, and treat oral health concerns in children from infancy until they become adults.
When To Bring Your Child to the Dentist
The American Academy of Pediatric Dentistry recommends that children have their first dental appointment when their first tooth erupts or when they reach their first birthday – whichever occurs first.
After the first dental appointment, infants, toddlers, and children typically visit the dentist once every six months for a dental cleaning and examination.
These more frequent visits allow our dentists to keep a close eye on your child's oral health and development. This enables us to intervene early if any concerns arise, preventing the problems from developing into more serious issues as your child grows.
Pediatric Dentistry at Oakwood Dental
We offer comprehensive pediatric dental care for children in our office. Some of our services include:
Preventive Care and Dental Treatments
Preventive treatments recommended for children include routine dental cleanings and examinations, professional fluoride treatments, and sealants. Additionally, we're fully equipped to treat any issues that might arise such as tooth decay or dental cavities.
Diagnostics
Our digital X-ray machine is incredibly safe for taking diagnostic images of a child's teeth, jawbones, and other maxillofacial structures. These images help us ensure your child's teeth and jawbone are developing normally and intercede early if any issues arise.
Athletic Mouthguards
Protect your child's smile during their favorite athletic activities with a mouthguard. We use an advanced digital scanner to take three-dimensional oral impressions of our patients' mouths. We can then use these scans to create custom-designed athletic mouthguards with a perfect fit.
Interceptive Orthodontics and Braces
Dr. Attila Nagy is highly educated and experienced in pediatric orthodontics. We can provide interceptive orthodontics, such as spacers, at an early age to help your child's jawbone develop with enough room for their permanent teeth to erupt without issue.
Additionally, these interceptive orthodontics ensure that any orthodontic treatments needed later on, such as braces, will be less complex and require a shorter treatment process.
Patient Education
Of course, one of the most important aspects of pediatric dentistry is teaching children about the importance of visiting the dentist and helping them develop good oral hygiene habits and learn how to care for their teeth on their own.
Learn More About Dental Care for Children
If you would like to learn more about our pediatric dentistry services or if you're interested in moving your family's dental and orthodontic care to Oakwood Dental in Bucyrus, we welcome you to contact our office today. We are always happy to meet new patients and look forward to keeping your family's smiles healthy and beautiful for life!