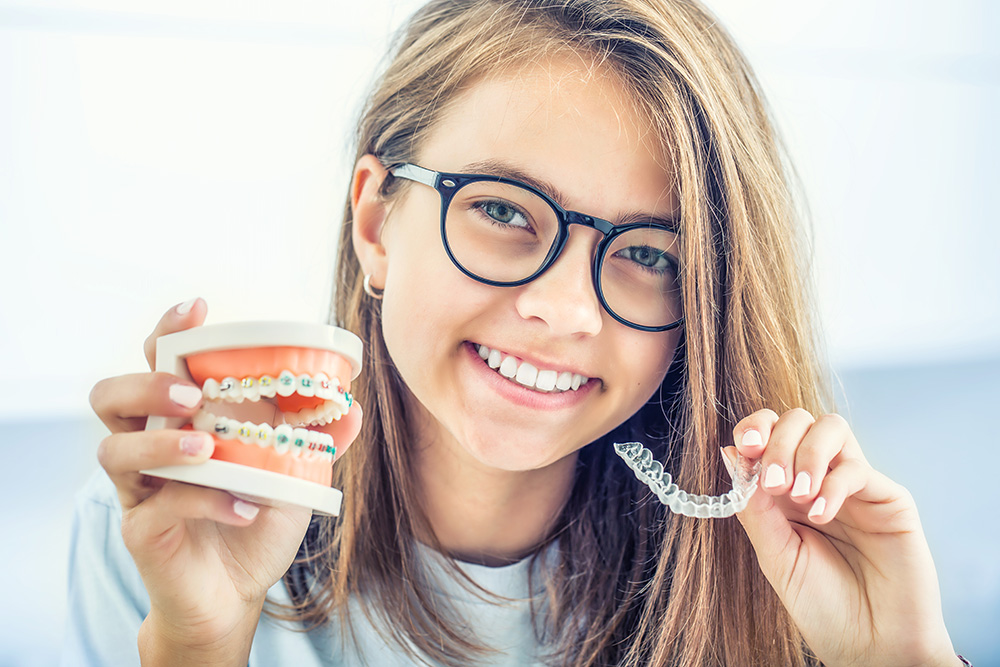 Oakwood Dental is truly a comprehensive oral health practice, providing comprehensive dental treatments in addition to world-class orthodontics with Dr. Attila Nagy.
After obtaining his Doctor of Dental Surgery degree at the Ohio State University, Dr. Attila Nagy took many years of advanced training in orthodontics here in the United States, and eventually obtained his Masters Degree in Specialized Orthodontics from the International Medical College in Münster, Germany. Dr. Nagy is a general dentist that provides advanced, comprehensive orthodontics and loves to help people with the most basic to the most complex orthodontic problems.
What Is Orthodontics?
Orthodontics is a specialized branch of dentistry that focuses on the detection, diagnosis, prevention, and treatment or correction of teeth and jaws that are malpositioned or malaligned. Orthodontics can also address abnormal bite patterns and the modification of facial development.
We work with patients to correct issues such as:
Malocclusion (overbite, underbite, crossbite, etc.)
Misaligned jaws
Temporomandibular joint disorder
Crowded teeth
Crooked teeth
Idiopathic condylar resorption
Growth irregularities
Orthodontic Services at Oakwood Dental
We offer comprehensive orthodontics to patients of all ages. Our treatments are designed to address a range of orthodontic needs, including:
Braces
Interceptive orthodontics and two-phase orthodontics for children
Expanders
Surgical orthodontics
Dentofacial orthopedics
Spacers
Retainers
Temporomandibular joint disorder treatment
Condylar resorption treatment
Habit appliances
And more
Pediatric Orthodontics and Free Orthodontic Consultations for Children
We recommend scheduling an orthodontic and braces consultation for children by the age of seven. Certain orthodontic conditions can be treated more effectively and more easily while a child is young and growing rapidly, and treatment might take longer or be much more involved if not begun until later.
These treatments are typically referred to as interceptive orthodontics. In many cases, early braces or other orthodontic appliances can help ensure your child grows and develops normally while minimizing the need for treatments later on. Interceptive orthodontics can save time and/or expense because early treatment helps prevent much larger problems from developing in the future.
If, however, early treatment offers your child no major benefit, a one-phase approach will be recommended (after all permanent teeth are in place) rather than the two-phase approach involved with interceptive orthodontics.
To know your child's development is on the right track and ensure your child receives the simplest path to good oral health, we provide orthodontic/braces consultations for children with no cost or obligation. We want our families to know whether it is important for their children to have early care, if it is okay to wait, or if braces are even needed at all.

In addition to traditional braces, we offer Invisalign treatment in our office. At your free consultation/exam, we can discuss the differences between traditional braces and Invisalign and help you to decide what is right for you!
Advanced Orthodontics With Dr. Attila Nagy in Bucyrus, Ohio
Our team at Oakwood Dental is proud to offer our patients world-class orthodontic care provided by Dr. Attila Nagy, who is a general dentist with advanced training including his Master's Degree in Specialized Orthodontics. Dr. Nagy is highly experienced in providing comprehensive orthodontic care, ranging from simple to complex cases in patients of all ages.
To learn more about orthodontics or the treatments available at Oakwood Dental, we welcome you to contact us to schedule a consultation with Dr. Attila Nagy today.