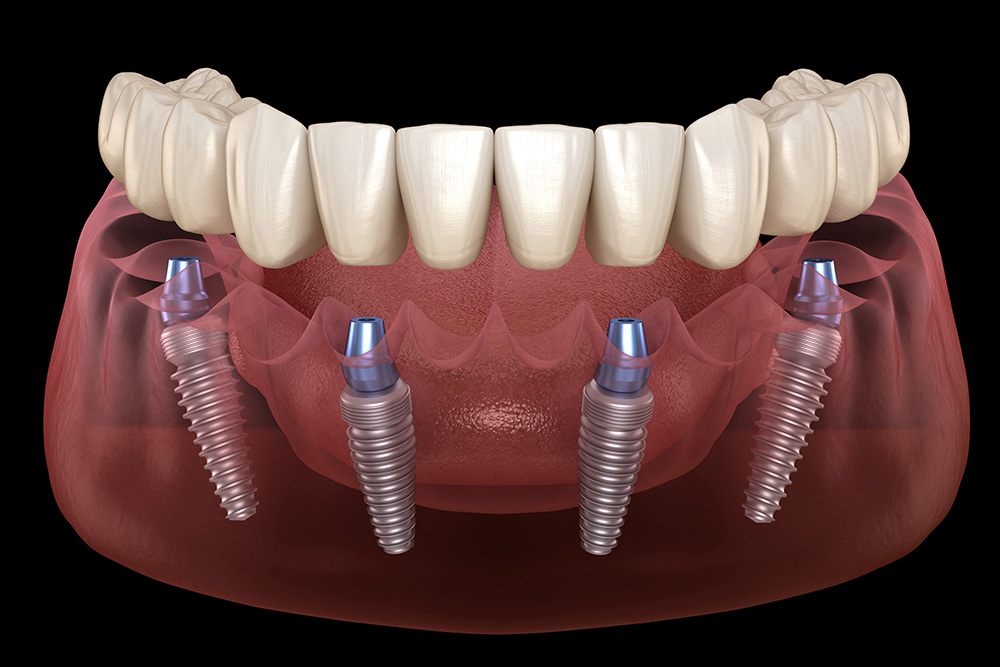 Dentures can be a great choice for patients who want to replace all or most of their teeth. However, many patients complain about the inconvenience of having to remove their dentures for cleaning and needing to use sticky dental adhesives to prevent their dentures from slipping around while they're in.
All-on-4 is an innovative approach to wearing dentures that helps mitigate many of the most common complaints of denture wearers.
What Is All-On-4?
All-on-4 takes dentures to the next level. All-on-4 dentures are permanently fixed to the jawbone with four strategically placed dental implant anchors per arch of replacement teeth.
What Are Dental Implants?
Dental implants are biocompatible metal, screw-like dental anchors that are inserted into a patient's jawbone. These implant anchors mimic a person's natural tooth roots to provide a more stable tooth-replacement experience.
Why Choose Restoration With All-On-4 Dental Implants?
All-on-4 offers many benefits and a far-superior tooth-replacement experience compared to traditional dentures. The benefits of all-on-4 include:
Patients can replace all of their teeth without the need for multiple surgical procedures for placing multiple implant placements.
A natural-looking, feeling, and functioning option for tooth replacement.
Stable and secure fit without any of the sliding, slipping, and gum irritation often experienced with traditional dentures.
There's no need for denture adhesive.
You can care for them just like natural teeth.
All-on-4 directly stimulates the jawbone to prevent the bone mass from deteriorating over time.
All-on-4 preserves your face's natural structure.
What To Expect When Getting All-On-4 Dental Implants
The process of getting all-on-4 dental implants is similar to that of getting a single dental implant to replace one tooth. It begins with an evaluation of the jawbone to determine whether or not bone grafting is needed to increase mass and strengthen the jawbone so that it can support the four dental implant anchors. If bone grafting is needed, this procedure occurs first, followed by a recovery and bone regeneration period.
Once adequate jawbone mass is present, the dental implants can usually be placed in a single procedure. The implant placement is followed by a period of recovery during which the anchors osseointegrate with the jawbone, creating a secure, stable platform to support the patient's permanent denture.
Once completely healed, implant abutments are placed. This process might require a short healing period, depending on how the patient's gum tissues healed after having their implants placed.
Finally, we design and manufacture a permanent denture to look like the patient's natural teeth. This denture is then permanently affixed to the implants' abutments.
Find Out If All-On-4 Is Right for You
If you are missing all or most of your teeth, we encourage you to schedule a smile restoration consultation with our dentists at Oakwood Dental to find out if treatment with all-on-4 is right for you.
We can talk with you about your smile goals and provide you with personalized treatment recommendations based on your individual needs. To learn more or schedule a consultation, we welcome you to contact our dental office in Bucyrus today.