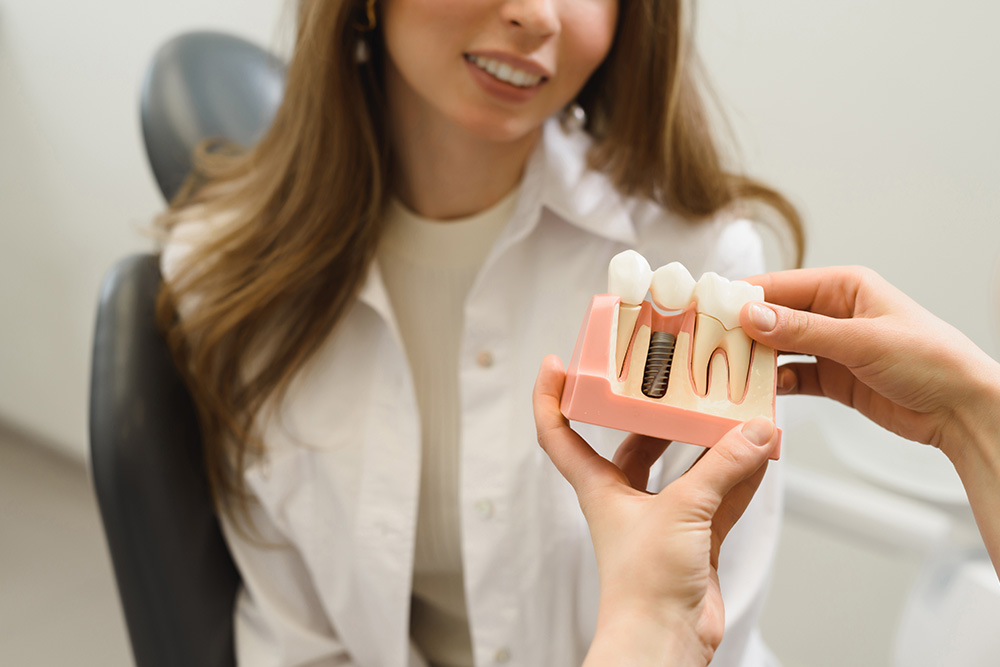 If you are missing one or several teeth, dental implants can be a wonderful option for restoring your smile to its normal form and function. The team at Oakwood Dental is proud to provide patients with complete dental implant services from the first consultation and placement preparation to finishing touches and ongoing care.
What Is a Dental Implant?
A dental implant is a permanent tooth-replacement option that is made up of three separate parts:
Anchor – The implant anchor is a biocompatible metal, screw-like dental device placed into the jawbone to act as the "roots" of the replacement tooth.
Dental Crown – The dental crown (also called a cap) is the visible portion of a dental implant that looks, feels, and works just like a natural tooth.
Abutment – The abutment is a metal piece to which the crown is permanently affixed, attaching it securely to the anchor.
The Benefits of Dental Implants
Dental implants are, perhaps, the most popular tooth-replacement option available because they offer many benefits over other dental restorations. Since they are anchored in the jawbone, dental implants look, work, and feel like natural teeth.
Additionally, implants provide direct stimulation and pressure to the jawbone. Without this stimulation (which other types of tooth replacements cannot provide), the jawbone eventually begins to deteriorate. This can negatively impact neighboring teeth and change a person's physical appearance.
How Are Dental Implants Used?
Dental implants are actually quite versatile in the smile restoration options they provide patients. Individual dental implants can be used to replace one or multiple teeth. They can also be used to support dental bridges, permanent dentures, and removable dentures.
Are Dental Implants Right for You?
Dental implants are a wonderful tooth-replacement option, but they are not necessarily the right option for everyone. To be a candidate for dental implants, a patient must:
Have adequate jawbone mass present to support a dental implant anchor
Healthy gums with no signs of periodontal disease present
Be willing to abstain from tobacco use of any kind throughout the implant process, which can often take months
Be healthy enough to undergo an oral surgery
When you schedule a dental implant consultation at Oakwood Dental, our dentists can talk with you about your restoration goals, examine your teeth, gums, and jawbone, and help you determine whether or not dental implants are the right choice for you.
The Dental Implant Procedure: What To Expect
The dental implant procedure is a fairly involved process that requires multiple steps from start to completion.
We begin with a consultation and patient examination that helps us determine whether or not the patient requires a bone graft to prepare the jawbone for the dental implant anchor. If a bone graft is needed, then this is the first procedure the patient is scheduled to undergo. A bone graft surgery is followed by a period of recovery when the jawbone regenerates new growth.
Once adequate jawbone mass is present, the implant anchor can be placed during a second procedure. This procedure is followed by another recovery period during which the jawbone osseointegrates with the implant anchor, creating a secure and firm attachment.
Once the patient has fully recovered from the implant placement, the abutment can be placed. Depending on how the patient's gums healed around the anchor, another healing period might be needed. Once the abutment is placed and gum tissues have healed, a permanent crown can be fixed to the abutment to complete the process.
Complete Dental Implant Services With Our Bucyrus Dentists
To learn more about the process of getting a dental implant, or to find out if dental implants are right for you, we welcome you to contact Oakwood Dental today.